Great Eastern Energy Corporation Limited was the first Indian Company to be listed on the London Stock Market. The pioneering enterprise to extract methane gas from West Bengal coal-bed blocks began in 2007. Until that time, no other Indian company had attempted this. Prashant Modi joined the company in 1996 and has overseen the operation. He is the company President and Officer in charge of operations.
Production Profile: Coal Bed Methane
Coal Bed Methane (CBM) is farmable for decades. This indicates a fairly sustainable energy source. After a slow start, with fairly low production, there is a peak in the amount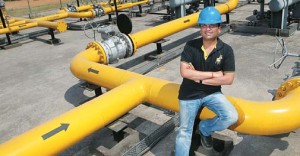 being produced. The amount being farmed will start to drop after approximately 25-30 years.
The gas being produced is economical, when compared to some of the alternatives being used in the region. Once popular furnace oil for example, is more expensive than CBM and dirtier to use. There are limits to how long people can use such energies because they are so unclean. CBM however, is extremely clean to use, as it contains 97 per cent methane.
History
Prashant Modi, signed an agreement with Indian Oil in 2007. This allowed the company to begin widening their distribution network by building a pipeline to service other regions in West Bengal. Gas was also sold from several of Indian Oil's petrol stations.
The first wells were set up in Raniganj and production was experimental at first. Over time, the process was perfected. Initially, there were only several industrial companies being supplied with the gas. The demand for sustainable energy in India continues to grow. Great Eastern has plans to ramp up production of Coal Bed Methane to supply the demand.
Once way to do this, has been by actively acquiring more coal-bed blocks for drilling. Secondly, the company have widened the supply network to other areas of West Bengal. This year, much of the hard work has paid off and GEECL have enjoyed considerable financial growth. In the future, the plans are for the company to continue to grow, by producing more CBM and distributing it to consumers. The aim is for more blocks to be secured and drilled.